So…the Westy 12 is here.  We received four 6-packs.to sell.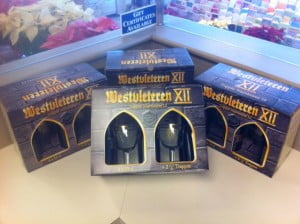 Due to the extremely high demand for this Trappist Ale our Perkins Road location will be holding a lottery on saturday the 15th of december.  This is so that everyone can have a fair chance to purchase one.
 
To register for the lottery you must come by in person now until Saturday morning at 10am.  We will draw four names from the box at Noon on Saturday.  Those four people will then have an opportunity to purchase a 6-pack of Westy for $85.99 and then to do with it as they wish.
 
*LIMIT ONE ENTRY PER PERSON
*FORMS MUST INCLUDE NAME AS APPEARS ON ID & PHONE #
*WINNERS MUST BE PRESENT TO WIN
*ID REQUIRED IF NAME IS DRAWN
We wish everyone that enters the drawing the best of luck.