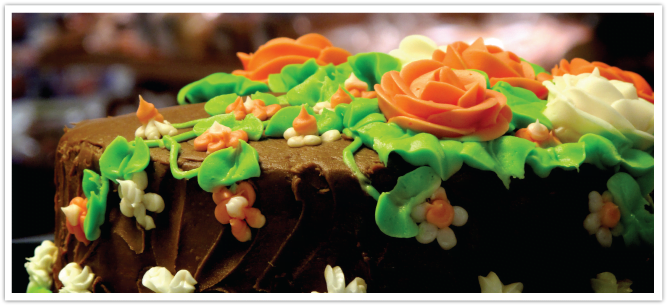 Calandro's Bakery is one of the best in Baton Rouge.  We make almost all of our Calandro's Bakery items from scratch in our own kitchen.  We have fresh baked bread daily, a great selection of fresh baked cookies, cakes, and pies, La Brea European style artisan breads, Doberge cakes (a Baton Rouge favorite!) – and don't forget – we win awards year over year for our wonderful, unique King Cakes during Mardi Gras season.  We also have many other sweets and desserts such as bread pudding, Mississippi mud pie, turnovers, scones, and cinnamon rolls, to name a few.  We are always creating new recipes and trying new ideas and we do take requests and custom orders (custom orders by phone only, please…) so contact us, call us, or come by to see (and smell…yum) what we have baking up. 
To keep up with Bakery Events, New Products, Etc., see below…
---
It's Mardi Gras.  And that means KING CAKE! MARDI GRAS -The celebration between the Epiphany and Fat Tuesday (the day before Lent starts) when Justice, Faith, and Power is represented by Purple, Green, and Gold (respectively).  When carnivals, parades, balls,...