Updated, Upgraded, and Generally Fancier!
Folks – back at the end of 2010, we moved from the stone ages of our prior webhosting and web design service, and took our website in-house, where Calandro's Supermarket web experts (not really…) conceived, constructed, and refined our website and took it from circa 2000 technology to the mainstream of the '10s.  But, as many of you know, even just a few months, much less a few years, means huge steps forward in technology – ESPECIALLY web technologies.  And since there have been no real changes since late 2010 to that site we realized it was high time to give our customers something that we can be proud of in 2014. 
So, without further ado (and really if you're reading this, there is no 'further ado', because you're already on the new site, silly) we present to you our brand new, updated, upgraded, and generally fancier Calandros.com: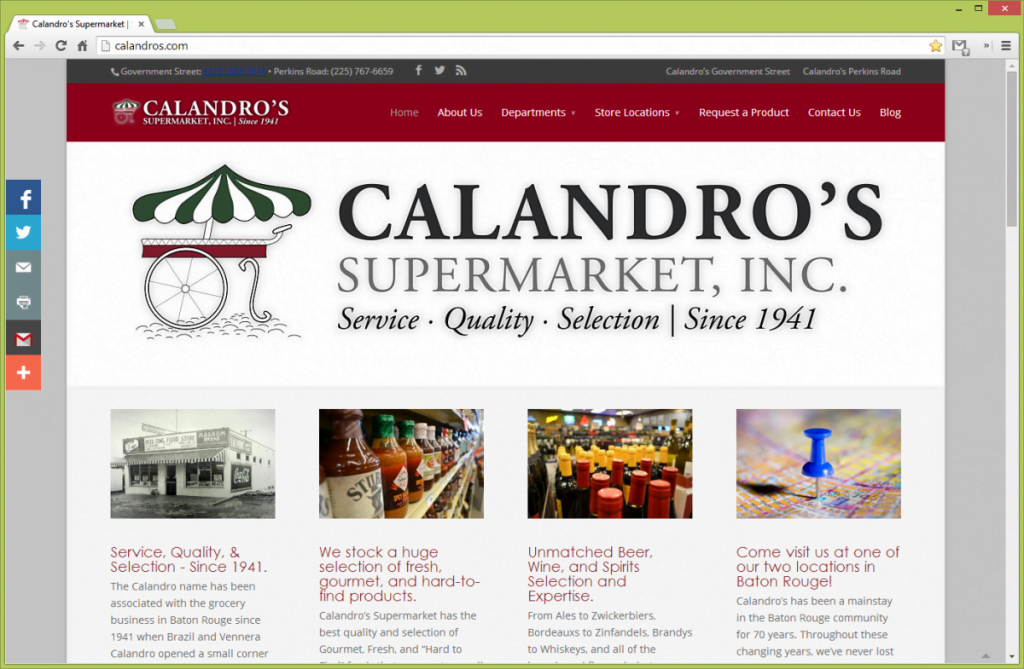 So you're thinking, "Great – looks a little new.  But so what? What's actually changed?"
Well – lot's of stuff under the hood, some stuff you can see, but everything is oh so very 2014 – see the list of significant improvements below:
Brand new underpinnings – out with the old content management system, and in with a brand new, squeaky clean database and CMS.

This will make it much easier and nicer for us to put out good new content for you all, which hopefully means more of it posted more often.
The website also loads a heck of a lot faster than the old one too…

Fancy new Calandros.com interface for you all – our beloved customers.

We spared no expense, and completely overhauled our customer-facing website with resizing menus, lots of pictures (check out the Perkins Road and Government Street pages!), a beautiful blog for each department page, etc.
Chock full of the latest, newest web technologies (so you'll need to be using a reasonably new web browser – IE9, latest Firefox, latest Chrome, latest Safari – you know).

Calandros.com is now a fully responsive,Optimus-Prime-like, transforming interface for all of your devices.

…which is a fancy way of saying it will look and work buttery smooth on your PC, your laptop, your tablet, or your smartphone (see the pic below!).

Social Media sharing abounds!

We are now even more integrated into our Facebook and Twitter homes!
We've also got sharing buttons on the left side of your screen, beneath each post, and (on tablets & smartphones) on the bottom of your screens – so make sure and share away when you see something on our site that you just love.

We improved how you can Request Products and Contact Us, too!

Both the Request a Product page and the Contact Us page now give you the ability to send us attachments – pictures of products, menus, recipes, etc.
Try going to Request a Product with your smartphone (we're rubbing our hands with glee on this one…) – now you can take pictures of products you find out and about or have at home that you'd like us to order for you and send those in too!

Just remember to attach a picture of at least the front, back, and bar code on the items you'd like us to get for you so we can track it down!

We upgraded the Deli Calendars – and boy what an upgrade…

The interactive deli calendar is brand new and top-notch, with 6 different modes you can pick from to view it – day, week, month, agenda, posterboard, and stream; there's a beautiful view for everybody!
You can also now subscribe to the deli calendar and have it get sucked right in to your Outlook, Google Calendar, Apple Calendar, etc. automatically – can't say you "forgot" about when we're serving up your favorite, delicious Calandro's plate breakfasts and lunches anymore…

To find the 'Subscribe' button, just scroll down to the very bottom of the interactive deli calendar and you'll see it…

Of course you can also always get the printable deli calendars too – they're still available on the right sidebar anywhere on the site.

And there's so much more – dig around Calandros.com – we're sure you'll agree!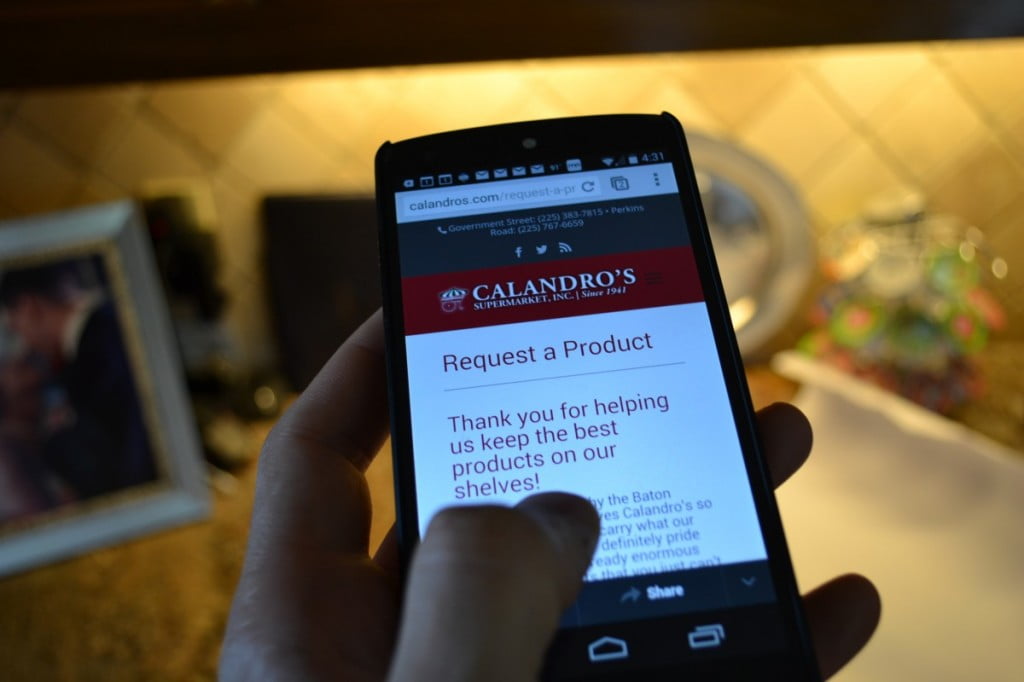 And – look – we're not going to sit on our duffs again for 4 years this time around.  So here's what's already planned to get improved as quick as we can…
Beautiful new image slider for the home page – you can't wait to see this one when we get it up and running…
A real, no-kidding mailing list so you can keep up with what's happening at both of our stores via your email (if you want to)…
Lots and lots of new content on the unique local/gourmet/homegrown/homemade groceries and goodies that make Calandro's so special.
Features on our expert employees, their experience, knowledge, background, favoite recipes, etc.
And much, much more.
So take a look around…
…let us know what you think of the new website below in the comments (or via Facebook and/or Twitter)…
…and buckle up for even more cool stuff to come on the new Calandros.com.