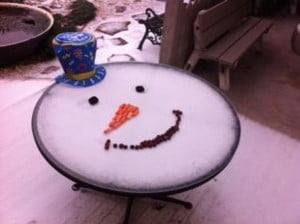 UPDATE (1/29/2014 @ 2:48pm):
Calandro's Govt. is open now until 6pm; Perkins is closed until Thurs. morning.  Both stores open @ 8am on Thurs. 1/30.  Be safe out there today!
---
Folks – with the icy, winter-y weather we'd posted on Facebook and Twitter that we would be closed on Tuesday 1/28/2014, and potentially re-open on Wed. 1/29 at noon. However, given the road conditions around both stores at the moment, we are not going to be able to open to customers at noon because many of our employees are still not able to make it in to the store safely and we certainly don't want customers coming in when its still unsafe to drive (and walk!) in many places around Baton Rouge.
So – at this point, we are still playing it by ear. It appears that the weather is cooperating in that temps will be above freezing this afternoon and its dry with no more anticipated wintery precipitation. If it appears that road conditions are improving enough and we can get our essential staff into the store, we may open in the early afternoon (sometime between 1pm and 3pm, likely). However, this is tentative still (so stay tuned) and if we do open, we will likely close early so that our staff can get home before the freezing temps cause problems again tonight.
In any case – thanks for your understanding, and barring any unforeseen changes, we should be open our normal 8am-9pm tomorrow (Thurs, 1/30) so that everyone can start getting ready for the Superbowl this weekend.