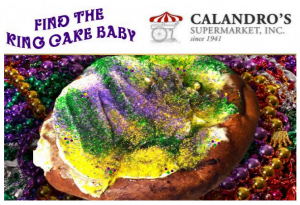 WAFB Channel 9 in Baton Rouge and Calandro's Supermarket are running a King Cake contest where if you can find the baby in WAFB's virtual king cake online, you can register to win one of 9 king cakes being given away during the Mardi Gras Season.  If you find the baby (click here to try your luck) and register for the contest online, watch WAFB's "9 News This Morning" for winner announcements and if you win, you will be able to come into our store and pick up a king cake FOR FREE.
The contest will be running on WAFB Channel 9 from 2/3 through 2/28, so make sure and take advantage while you can.
Contest rules and information can be found here.
Good Luck!