BrewDog Tokio BrewSheet
ABV:   18.2%

IBU's:   90

Malts:   Marris Otter, Dark Crystal, Caramalt, Chocolate Malt, Roast Barley

Hops:   Galena

Twist:   Brewed with Jasmine and Cranberries. Dry-Hopped then aged on oak chips.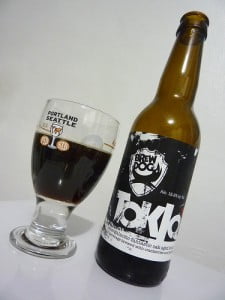 "This imperial stout is brewed with copious amounts of speciality malts, jasmine and cranberries. After fermentation we then dry-hop this killer stout with a bucketload of our favourite hops before carefully ageing the beer on French toasted oak chips.
It is all about moderation. Everything in moderation, including moderation itself. What logically follows is that you must, from time, have excess. This beer is for those times." – www.brewdog.com