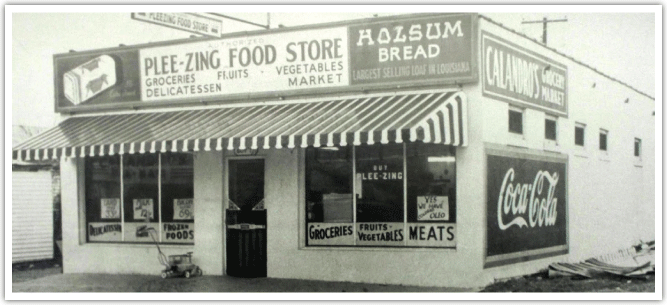 Calandro's: Service, Quality, & Selection, since 1941.
---
The Calandro name has been associated with the grocery business in Baton Rouge since 1941 when Brazil and Vennera Calandro opened a small corner grocery store on Government Street, originally known as the Plee-zing Food Store.  In these early years, Brazil and Vennera's sons – Sonny, Blaise Jr., Charles, and Mark – could be found in and around the store cashiering, stocking, sweeping, mopping, and even occasionally playing, but always involved.  Now, even though both Brazil and Vennera have passed, their sons are the owners and are still heavily involved in both stores, managing and purchasing, and even sometimes sweeping and stocking – but always extending the Calandro family atmosphere to the Baton Rouge community.  And the third generation of the family – Blaise Calandro III & Taylor Calandro – are also now involved in day-to-day operation at both stores.
As far as locations go, the original Plee-Zing store has since changed its name to Calandro's Supermarket, Inc., has gone through a number of additions and updates, and has grown over the years into the supermarket it is now – a Baton Rouge landmark – now affectionately known as Calandro's Mid-City – located at 4142 Government Street.  In 2000, the Calandro family also opened a second Calandro's Supermarket at 12732 Perkins Road – which we call Calandro's Perkins – to accommodate our customers in South Baton Rouge. Calandro's Perkins as been a huge success and just recently celebrated its  20 year anniversary.  

Today, as it has always been, our operational motto is "Service, Quality, and Selection | Since 1941".
…our operational motto is "Service, Quality, and Selection | Since 1941".
Service, because our staff is second to none, combining knowledge, helpfulness, and a family feel for a very unique and personal service experience that truly believes in the mantra, "the customer is always right." 
Quality, because we source only the highest quality products and brands, local Louisiana fare whenever possible, and a full range of domestic and international gourmet products, always to provide the very best to our customers. 
Selection, because both supermarkets stock between 40 and 50 thousand items, most of which are available at both stores.  This inventory includes grocery and gourmet foods, produce, scratch bakery, homemade deli, prime meats & seafood, frozen foods, and dairy.  Also, in Calandro's Select Cellars – the in-house Calandro's name for our amazing Wine, Liquor, and Beer departments at both stores – we stock more than 3000 wine labels in addition to a selection of artisan liquors and domestic, import, and craft beers that is simply unrivaled in South Louisiana. 
And just to top it off, whether its food, drinks, spirits, or anything else even mildly grocery-related, if we don't have what you're looking for, request it here, and we will do our very best to order it for you and get it in as soon as we can.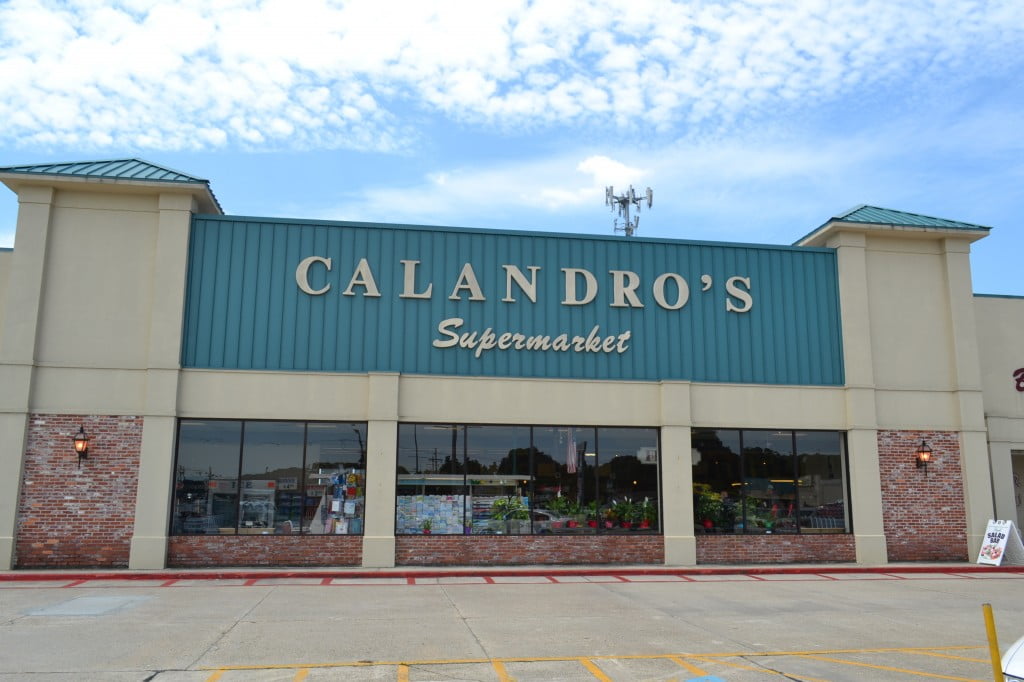 So as you can see, Calandro's has been a mainstay in the Baton Rouge community for over 80 years.  Throughout these changing times, we've never lost our focus on service, quality, and selection for the Baton Rouge community and we always extend our family to yours.  We welcome you to join us, at either of our stores, and experience our unique grocery shopping experience for yourself.
For the latest Calandro's Supermarket News and Events, see below…
---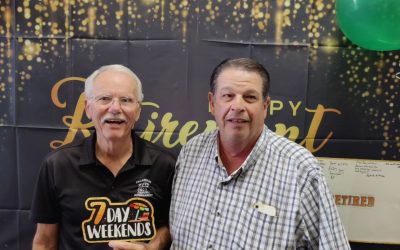 A big, big piece of our Calandro's Perkins family is retiring after his last shift today. Mr. Ronny Sansone, a 23 year manager with us, who started basically when the Perkins store opened in 2000 - assumed by many to be 'Mr. Calandro' because he's been such a fixture...