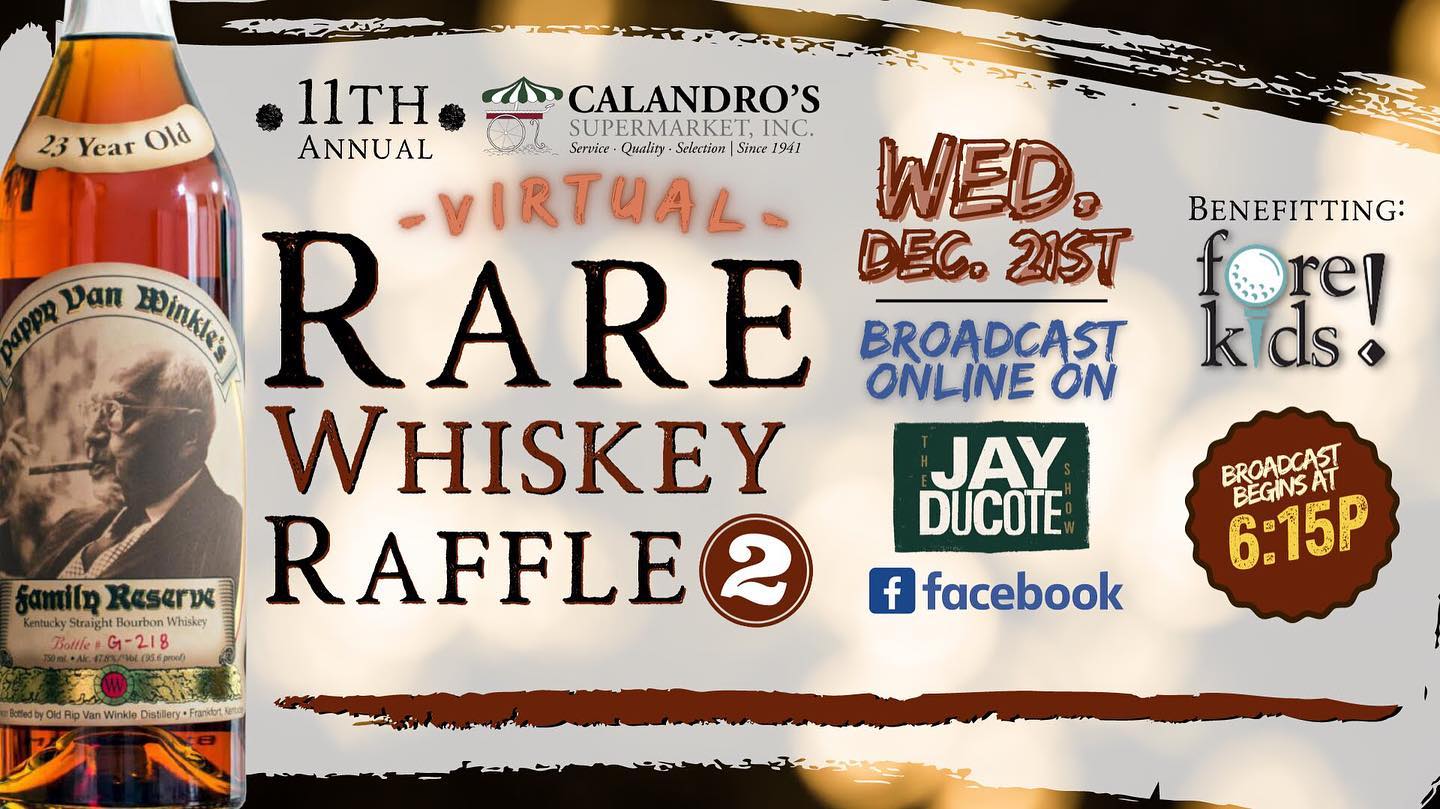 Calandro's 11th Annual ** Virtual** Rare Whiskey Raffle has been extended to a 2nd Draw! Unfortunately for us, we received our allocations of BTAC & Pappy Van Winkle AFTER the original raffle draw. Fortunately for you, this means we get to extend the fun to a 2nd raffle draw for all the original ticket purchasers – and we've got our allocations in-stock now.

So TODAY – Wednesday, Dec. 21st – after the Jay Ducote Show does their live show on TALK107.3 radio in-store @ Calandro's Perkins from 4p-6p, we will be doing a 2nd Raffle Draw @ 6:15pm LIVE on the TALK107.3 Facebook page. We will be using just the original tickets sold for the raffle back at the beginning of the month.

** NOTE: WE WILL NOT BE SELLING ANY NEW TICKETS as this is just an extension of the original raffle. **

So if you'd like to tune in to watch if your number gets drawn, and for a few more antics with **JAY & CHUCK IN THE EVENIN'! — Extended happy hour…(extended HAPPY hour)** please join us at our link in bio!

A couple other details for the extended raffle:

1. Pickup for ticket numbers / bottles drawn in this raffle #2 will begin on Thurs., 12/22/2022.

**Please don't come to pick up bottles won the night of this raffle #2. They will be available starting the next day for purchase – Thurs. 12/22/2022.**

2. Bottle pickups / sales for this raffle draw along with the original one on Matt Moscona's show have been extended through New Years Eve so you still have another week-ish to grab them!

**BUT if you want to give these items as Xmas gifts or enjoy your spoils yourself over the holiday – remember – we close early @ 5pm on Christmas Eve and we are completely closed on Christmas Day.**

2. Pickup of all bottles is still ONLY at Calandro's Perkins – don't go to Mid-City for raffle bottle pickup!

3. NO MORE TICKET SALES – we will be conducting this raffle draw #2 with the original tickets sold back in the first week of December.