1. Do you LOVE Calandro's Supermarket?
2. Are you on Facebook?
3. Do you like free money for making groceries at Calandro's?
If the answer to those three simple questions is yes, then WAFB Channel 9 News and Calandro's have you covered with the Facebook Fan of the Week contest.  The contest is running from 4/11-4/18 and the prize for the lucky winner is a $100 Calandro's Gift Certificate to use on anything in either of our stores!
Details on what to do to enter (and even get more than one entry in the contest) are below.
All you need to do is like us on Facebook:
…enter the WAFB Facebook Fan of the Week contest: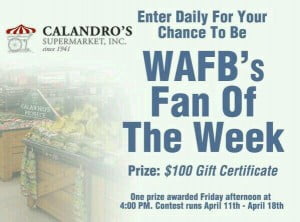 …and then SHARE the contest and your love for the store on your Facebook page.
Good luck, and either way – we look forward to seeing you in the store AND on Facebook. . .