Try a new oil or vinegar on our Salad Bar today – it just might blow your mind!
Many of you have discovered the wonderful, fresh, and healthy salad bar we introduced at our Perkins Rd. store earlier this year. And if you haven't – you've got to try it – its the quickest super-healthy meal you can pick up in South Baton Rouge (in our humble opinion). But even with fresh veggies, fruits, Calandro's Homemade Chicken Salad, meats, salad dressings galore, and all of the other goodies that are available, something was still missing. So after racking our brains and wandering our aisles, we found the missing piece(s):
If the pictures don't do it justice, these are our world-class oil and vinegar collections. How could we have such a wonderful set of oil/vinegar combinations and not let a few of them compliment our new salad bar?  So we set out to remedy this by offering some of our very best to grace each and every salad that you all artfully create: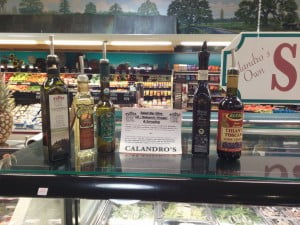 So – great right?  Wonderful combinations of top-notch, exclusive oils and vinegars to lovingly compliment your hand-built salad.  What else could you ask for?
Well – we didn't stop there. Even if you're not interested in buying a salad, but you want to try some of our more eclectic and/or expensive oils and vinegars before you spend a chunk of change on them, feel free to use our salad dressing cups to grab and/or taste a sample from the salad bar before you buy. The choices available at the salad bar will rotate over time, too, so make sure and check in occasionally to see whats currently on sample. And if you're at our walls of oil and vinegar choices wondering what's on sample, or you're coming over from just sampling the most amazing new oil or vinegar you just tried, just look for the tags like these: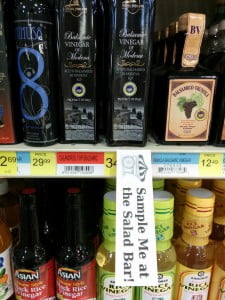 Anyway – we hope you all enjoy the new choices**. If you have other oils or vinegars you'd like to try, drop us a comment below this post, hit us on Facebook or Twitter, or use the 'Contact Us' link above to send an email.
Thanks!
** As of today, the following oils and vinegars are being featured:
Calandro's (yes – our very own) Super Tuscan Extra Virgin Olive Oil

Very light, cold pressed, delicately flavored and aged EVOO

Kinloch Pecan Oil

Great pecan/nutty flavor adder for salads or bread dipping – good stuff!

Oils of Pacine Extra Virgin Olive Oil

Similar to Calandro's oil above, but organic

Calandro's (also our very own) Sogno Toscano Balsamic Vinegar of Modena

One of our very best, most aged, and flavorful balsamic vinegars.  You've got to try this one – it really is wonderful.

Alessi Chianti Toscano Red Wine Vinegar

A twist on your standard red wine vinegar that's Italian Chianti based – very flavorful if you're into Red Wine vinegars