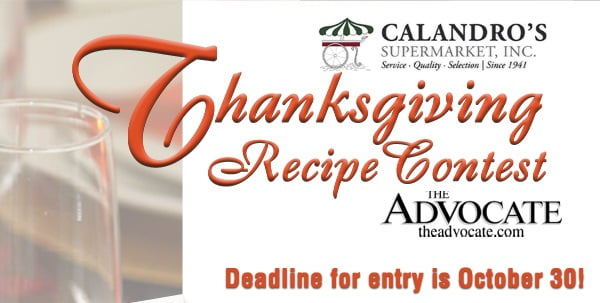 Calling all Thanksgiving Foodies, Chefs, and Custom Culinary Creators!
The Advocate has teamed up with Calandro's Supermarket to host a big recipe contest for one of the biggest meals of the year for many – Thanksgiving! Bring your best recipes in any of the following categories:
Appetizers

Entrees

Side Dishes

Desserts
…and if you* wow the judges (from Calandro's and the Advocate's editorial staff) with your recipe and become one of the three finalists in each category, you'll get a $25 Calandro's gift certificate** and a tasting at The Advocate's offices to pick the winner.
Enter the Thanksgiving Recipe Contest Here!
If you end up winning the category, after the Finalists Tasting at The Advocate, not only do you get to claim the crown and kudos for best Baton Rouge Thanksgiving Recipe, but you also get all of the following prizes:
The Advocate's expert foodie 'Eat. Play. Live.' editorial staff will do a writeup featuring your dish to all of Baton Rouge, making your 'King or Queen of Thanksgiving Recipes' crown official!

An additional $75 to spend at Calandro's (in addtion to the $25 finalist prize) for a total $100 gift certificate**.

Calandro's own wine experts and sommeliers will put together a custom wine (or drink) pairing to be the perfect compliment to your recipe!

Your dish will also be prepared and featured with it's chosen wine pairing, in-store, at our Big Thanksgiving Event coming up on November 20th at Calandro's Perkins.
Now, you can't beat that with a Thanksgiving Turkey Leg! So if you've got the perfect dish, or you know a Thanksgiving Foodie or Chef* (amateur and professional chefs both encouraged!) who claims their Thanksgiving dish is the greatest of all time, tell them to enter soon!
Enter the Thanksgiving Recipe Contest Here!
For the contests official set of rules, please click here.
* Employees of The Advocate, Calandro's Supermarket, their respective parents, affiliates, subsidiaries, advertising sponsors and promotional agencies, and the immediate family members of each are not eligible.
** All category finalists who don't win the contest will receive a Calandro's $25 Gift Certificate.  All category winners will receive a Calandro's $100 Gift Certificate.  All Gift Certificates will be handed out at Calandro's Thanksgiving Event to be held in-store @ Calandro's Perkins Road on November 20, 2014.  If finalists or winners cannot be at the Calandro's Thanksgiving Event, the gift certificates will be available for pickup (with photo id) after the event @ Calandro's Perkins Road.