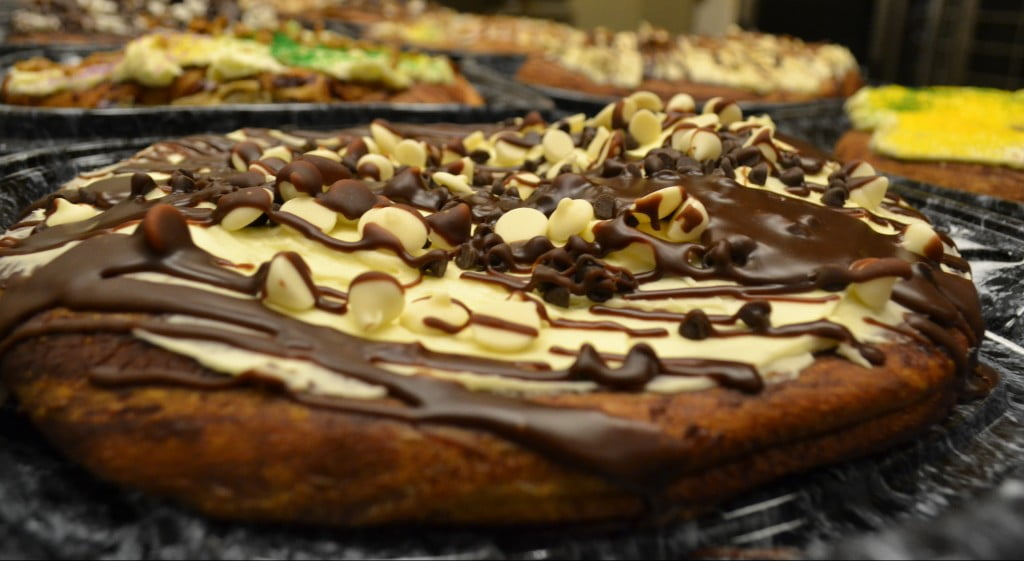 It's Mardi Gras.  And that means KING CAKE!
The celebration between the Epiphany and Fat Tuesday (the day before Lent starts) when Justice, Faith, and Power is represented by Purple, Green, and Gold (respectively).  When carnivals, parades, balls, and just general partying of all sorts occurs in Louisiana – especially South Louisiana.  When the Louisiana national pastime of French Creole drinks and eats is magnified into just a few short months of the year.  And what most embodies this special season, Louisiana's amazingly unique and wonderful food, and our penchant here for eating that food than…
And there's lots of it…everywhere.  In 2015, we saw home bakeries, commercial bakeries, local grocery stores, big chain stores (ugh), donut shops, cupcake bakers, etc. all getting into the mix of making their own versions, styles, and takeoffs of the Louisiana Mardi Gras delicacy: King Cakes.  In fact, last year NOLA.com put together an interactive 2015 King Cake Guide and Map for Baton Rouge where you can check out all that our area has to offer in the way of King Cakes (Check out our video from NOLA.com's guide below.)
And in 2016 – its only gotten more creative and competitive out there.  As the sheer amount and creativity of Mardi Gras King Cakes in Baton Rouge evolves and grows, its actually good for us and GREAT for you.  It forces Calandro's to stay ahead, up our game, and generally just ROCK with King Cakes even more than in the past.  So check out below for all of the details on Calandro's King Cakes, and just how we've upped our King Cake game in 2016!
Published Flavors (50+ Different Tastes)
We've always talked about the fact that we have significantly more flavors than anyone else in town.  And 20+ gourmet flavors that will blow your mind when you taste some of the creative things we've come up with.   We break the mold and set the new trends, year after year, on just how much you can do beyond just a standard cinnamon King Cake.  But you've always had to come in or call and speak to our bakery and/or taste a sample to know what the cake's flavors are.  Well this year, we've distilled our King Cake flavors into a menu of sorts to make it easy to pick your favorites or be adventurous and try something new, knowing a little bit about what our cakes have in them.  So no more "mystery" on what's special about a 'Calandro's Special'; no more muddiness when it comes to the 'Mississippi Mud'; no more hand-waving when it comes to the italian-ness of the 'Italian'.  Check it out below:
Newest Flavors
We set the trends for Baton Rouge King Cake flavors with usually 3-5 new flavors being tested and added every year.
New for 2016:
For 2016 – the incredibly creative team in our Deli figured out how to get a Sweet Potato Pie into a King Cake for an incredible and unique conglomeration of King Cake Sweet Potato goodness we like to call 'The Holiday'.  (BTW – that makes for 22 gourmet flavors, folks…and it contributes to well over 50 different flavors that we make throughout Mardi Gras.  Nobody around here comes close to that!)
New for 2015:
Back in 2015 – we put out some exciting new stuff for sure – liquor cakes were the name of the game.  The maply bacon-y goodness of the 'Southern Belle'.  The chocolatey, praline-y, liqueur-y yummyness of the 'Big Easy'.   A bit of coffee liqueur eccentricity in the 'Hangover'.  The lovely compliments of vanilla plus some real bourbon liquor in the 'Bourbon Street'.  And even the much heralded return of the 'German Chocolate' King Cake after a bit of a hiatus.
Shipping
If you've been shopping with us long enough, then you know that many, many moons and Mardi Gras seasons ago, we tried shipping King Cakes and it was a spectacular failure (unless the folks receiving the cake just couldn't get over the incredible taste of 'Calandro's King Cake Pudding').  The combination of the stuffings, size, and heaviness of our cakes plus our lack of packing and shipping experience plus carriers that just didn't know how to handle cakes carefully in transit made for a nightmare.  So we got out of the King Cake shipping business for a long time.  And we still don't ship directly, but we have a solution for you that should be even better than that – read on…
Now – years and years later, the carriers have gotten much better about handling King Cakes appropriately, and we have some good business friends down the street – AIM Mail Center @ Bluebonnet & Perkins – who are pros at packing and shipping King Cakes at a reasonable price (and handling the occasional shipping issue and claims that are still inevitable from time to time).  They have partnered with us this year to handle the packing and shipping of any of our wonderful King Cakes to those who just can't get to Baton Rouge to grab one themselves.
All you need to do is come by Calandro's and pick up the King Cake of your choice, and take it over to AIM at the address below, and they'll be happy to get you the very best rates possible to where you'd like to get your cakes shipped.
AIM Mail Center # 154 of Baton Rouge, LA
9655 Perkins Rd Ste C,
Baton Rouge, LA 70810-1534
phone: (225) 757-8077
Special Orders & Important Info for Out-of-Towners
Although we don't ship directly (see above) we do take Special Orders at both of our locations for pick up, so please call (225) 383-7815 for our Government Street location or (225) 767-6659 for our Perkins Road location to place an order.
And in order to highlight the importance of Special Orders (or at least timing) for customers coming in from out of town, we wanted to share this following unfortunate situation. Patty traveled here from Shreveport to grab a few King Cakes in 2016 and caught us at exactly the wrong time. A very busy King Cake Friday with our morning batch depleted and just before the afternoon batch came out. So it doesn't happen to anyone else, please take a look at what's below, especially the bolded text:
Patty Castellano Ertz Drove all the way from Shreveport and returning home without any king cake. Only had apple and smores in store. Very disappointing to make the trip and returning empty handed. Don't count on them having what u want  January 29 at 2:54pm

Calandro's Supermarket Patty – I'm so sorry this happened to you. With 50+ flavors we have to make our different flavors in batches and that means we almost never have all of them out at the same time. But we try and make almost all of the flavors within 2-3 days and we definitely take special orders over the phone so you can get what flavor you want when you want it. So again I'm so sorry you made such a long trip and didn't find what you were looking for. But if you're going to be back in before Fat Tuesday, please do give us a call, put in a special order, and we'll get whatever flavor you'd like ready for when you arrive.  January 30 at 1:16am

Patty Castellano Ertz We won't be back that way. We had someone who was in our hospital from there and told us how great these were. All my nurse friends are going to be expecting one Monday and I'm going to have to disappoint all my pals. After looking at your posts I had no idea there wouldn't be any of the ones we would want.  January 30 at 1:21am
We're posting this section from Facebook specifically to address what Patty pointed out in bold just above.  We did not have anything posted up here to let people know that we don't have all of our flavors all of the time on the shelves, and we do work our King Cakes in batches so sometimes we're overflowing with cakes and other times we can be very low in stock due to very busy King Cakes sales and timing.
Calandro's Supermarket Patty – after some research on exactly what happened in this case, and as you and I discussed via Fb Messaging – I'm posting this as some suggestions for all of our customers, but especially for those of you like Patty who are coming in from out of town. Because of the popularity of our King Cakes over the past few years there are times of the day when we may be sold down in-between batches. It usually occurs mid-afternoon or close to closing time – especially on Friday, Saturday, & Sunday (super busy King Cake days) – as we usually will put out the big morning batch around 9-10am, and then follow up with another large batch in the afternoon from 3-4pm. 

As it turns out (and we hate that this occurred as it did), Patty caught us at exactly the wrong time & place. She was at our Government Street location (our smaller bakery of our two stores) in from out-of-town, around 2:30pm on a busy King Cake day (Friday) when they were trying to play catch up and get the afternoon batch out. So there were only a couple of King Cakes out on the racks and we feel terrible about this.

While we're trying to work on some ways to prevent this kind of thing from happening by potentially changing or streamlining some things in the bakery, I don't know that we'll be able to completely eliminate the issue given the popularity of our King Cakes during Mardi Gras. However, we do have some suggestions for you all, especially if you're going to be in from out of town, in hopes that we can keep this sort of thing from happening to anyone in the future:

1. Special Orders: The best way to ensure we have the King Cakes you want, when you want them, is to make a special order at either of our bakeries (Government Street or Perkins Road). We can queue up any of our flavors for you and hold them behind the counter until you arrive so you'll have the flavor you want, freshly baked and ready for you to grab when it works for you.

2. Timing: Our bakeries usually roll out big batches in the morning around 9-10am and then again in the afternoon around 3-4pm. As it gets closer to Fat Tuesday, we will sometimes roll out even more batches, but the times listed above are your best bet if you want to catch us when we're flush with fresh King Cakes in our bakeries.

3. Multiple Locations: If you can't make a special order, or you're outside the timing above – stop through or call both locations – Government Street and Perkins Road. Both of our bakeries are wonderful, and make incredible King Cakes, but because of the smaller size @ Government Street (floor space & personnel) we roll out more King Cakes more often at Perkins Road, so if you're strapped for time and can only stop one place – Perkins Road is probably a better bet just based on sheer volume.

So Patty – please accept our sincerest apologies – for you and your co-workers up in Shreveport. We're so sorry you all won't be getting any Calandro's King Cake this go-round, but at the very least, we hope to get another shot at your business, and thanks for helping us keep this from happening to anyone else who stops in from out-of-town during Mardi Gras for their King Cake fix.
Media Coverage
Calandro's King Cakes in the news…
"Baton Rouge King Cake Guide: Interact with a video map to find your Mardi Gras fix" – Chelsea Brasted – NOLA.com
So there you have it.  All of our flavors published.  New flavors intro'd that push the King Cake boundaries even further.  Even a shipping solution for our King Cakes to reach far outside of Baton Rouge.  And Calandro's King Cakes in the news!
Happy Mardi Gras everybody!
…and if that just weren't enough, here's some more gratuitous king cake footage for your enjoyment: