Do you hear the people sing?
Singing the song of angry men?
It is the music of the people wanting their Wild Turkey again!
…If you sang along, we praise your beautiful singing! It's the haunting, yet catchy melody from the famed musical "Les Miserables" about the French Revolution. Times might not be as pressing as was for the French in the 1700s, but the rising demand and diminishing supply of bourbon may be a forewarning of temporary bourbon shortages in 2014. Though, FEAR NOT, we've stocked up, and we promise none will go thirsty!
Among the many tedious requirements to uphold its name, bourbon must be made from at least 51 percent corn, bottled at 80 proof, aged in new charred oak barrels etc. Most bourbons are aged for 4 years, but many premium bourbons are aged for as long as 8 years (and some, even higher- we have Barterhouse, aged 20 years on our shelf). Anyway, accessibility to some premium bourbons may begin to pose a problem, because the supply barreled years ago is currently being sold at such a rapid pace. Bourbon sales have increased by 40 percent in the past 5 years, according to Euromonitor. In the past 10 years, US exports have tripled, from $376 million in 2002 to $1 billion in 2013, according to the Distilled Spirits Council of the U.S. More than half of all whiskey sales make up high-end and super premium whiskeys, according to the research report on IBIS World.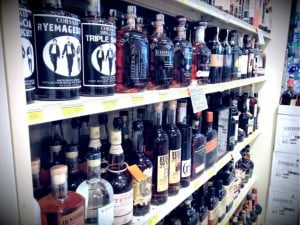 So, talking facts… The most important is — we have created our very own #BourbonWall in order to bar against possible long-term shortages. Yes, this barricade is a strong, fortified wall of 100 different types of bourbons and whiskeys. We have everything from craft bourbons, like Booker's, Baker's, Noah's Mill, Basil Hayden's, to the classic and beloved Woodford Reserve and Buffalo Trace. If you look high enough, you'll even find specialty and super premium bourbons such as Ransom (batch number 001, not to mention!). This sucker sells for $100, but we also have lower end, yet tasty deals on W.L. Weller and Jim Beam's Devil's Cut. Want to expand your borders and palate from Kentucky? Try out Californian whiskey Low Gap made from Bavarian hard wheat, or Spring Mill bourbon from Indiana. If you are into au'naturale, we have organic whiskey from Chicago, Lion's Pride. Movin' on west, we have Whipper Snapper from Oregon, Colorado Gold (from… guess where!?) and High West from Utah.
Further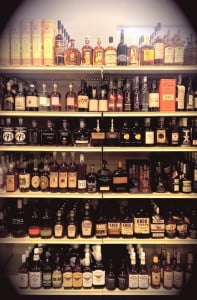 more, expand your horizons at Calandro's! We have a lot to offer in the bourbon, and not to mention- the Scotch, liquor, liqueur, wine and Champagne realm as well. Come by and pick out your favorite bourbon today! If you're feeling adventurous, come pick up a wacky one! 😀 …OR you may be wondering what type bourbon Hans Solo would drink… Click HERE because we have it.
If you'd like, read more about the effect of the bourbon boom on many distilleries in these informative articles by Esquire and Spirits Journal. For more proof in the pudding: distilleries have started to bend to the demands. Attempting not to break, Maker's Mark watered down their mash, but quickly reverted back to normal after a flurried uproar from fans. In a quite different light (a tad more diplomatically), powerhouse distilleries such as Buffalo Trace confided they were "struggling to keep up with demands" and warned of "temporary shortages," in a May 2013 press release. HAPPY READING! .. and Drinking! 😉
Love,
The Calandro's Supermarket Bourboneers
Don't forget to follow us on Facebook and Twitter to always be up to date with our latest products, specials and events!